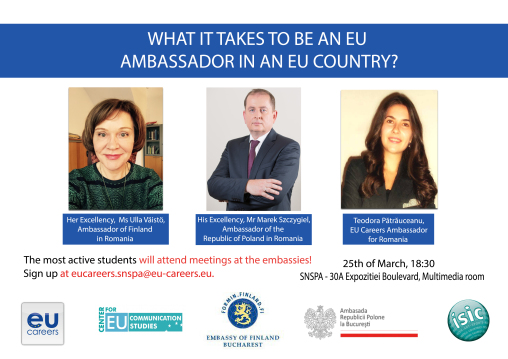 Center for EU Communication Studies CECS (Școala Națională de Studii Politice și Administrative), din cadrul SNSPA, componentă a proiectului "Euroantreprenoriat – calificări universitare pentru europenizarea societății românești" (POSDRU/156/1.2/G/140578) și EU Careers Romania organizeaza evenimentul "WHAT IT TAKES TO BE AN EU AMBASSADOR IN AN EU COUNTRY?", care va avea loc la data de 25 martie, în intervalul orar 18:30 – 20:30, în sala multifuncționala a universității.
Scopul evenimentului este de a familiariza studenții cu modul de lucru specific instituțiilor diplomatice europene, cu ceea ce presupune o carieră de specialist în comunicare europeană, dar și cu oportunitățile de studiu academic care pot contribui la construirea unei astfel de cariere.
Vorbitorii sunt Excelența Sa, doamna Ulla Väistö, Ambasador al Finlandei în România, Excelența Sa, domnul Marek Szczygiel, Ambasador al Poloniei în România, prof. dr. Alina Bârgăoanu – Prorector SNSPA, conf. dr. Loredana Radu – Director CECS și Teodora Pătrăuceanu, Ambasador EU Careers pentru România. Excelențele Sale – doamna Ulla Väistö și domnul Marek Szczygiel – vor împărtăși din propria experiență diplomatică în statele-membre ale UE, accentuând rolul jucat de comunicarea publică în context european.
Cei mai activi studenti vor avea ocazia de a participa la intalniri individuale cu Excelențele Sale.
Inscrierile se fac completand acest formular pana la data de 23 martie.